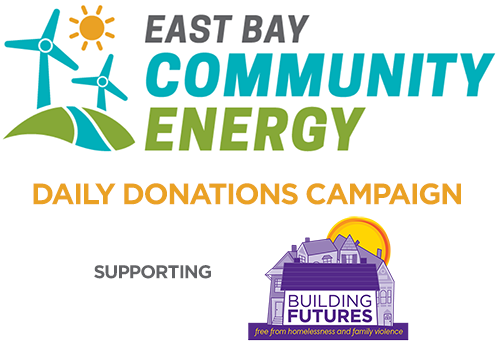 East Bay Community Energy invites you to join our efforts to support Building Futures with a monetary donation.
Building Futures' mission is to build communities with underserved individuals and families, where they are safely and supportively housed, free from homelessness and domestic violence. Building Futures believes that everyone deserves a safe place to call home. That is why all of Building Futures' programs and services are aimed at helping their clients overcome their obstacles to permanent housing. Building Futures is proud to provide Alameda County individuals and families in need with Shelter, Domestic Violence Support and Advocacy, and Housing Services. Learn more at www.bfwc.org.
In March 2020 the local energy provider, East Bay Community Energy (EBCE) issued a COVID-19 relief grant solicitation to distribute $220,000 to non-profits in Alameda County. 140 local charitable organizations submitted applications requesting $3 million in funding. These organizations are doing amazing work and need financial support to deliver the essential services they provide. EBCE is doing what we can, but it is clearly not enough. We want to do more to help amazing groups.
That is why we launched East Bay Daily Donation, an effort to highlight local charities and encourage donations to them. For more information on EBCE's response to the COVID-19 pandemic click here: https://ebce.org/covid-19-response/.