We're excited to have a simple way to donate as part of the Jammie Drive this year: Building Futures provide basic supplies to 200+ individuals and families as they move into stable housing in 2023! This holiday season, you can help make a house a home!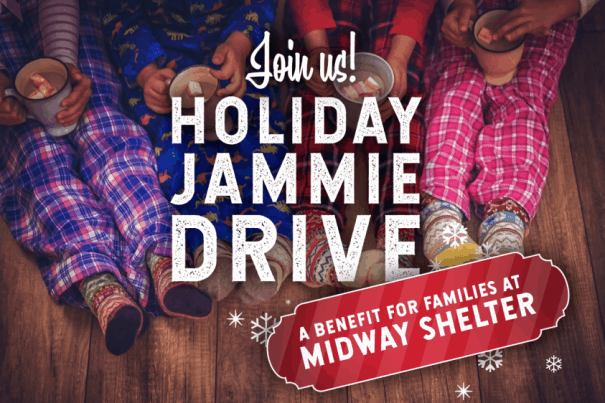 Building Futures is proud to be housing more families than ever before! Their aim is to connect 200+ households to housing in the year ahead. As they rebuild after homelessness and domestic violence, most will be moving to their new homes with only a few personal items. You can help today and get them off to a positive start with a move-in kit which includes much-needed household supplies! Building Futures also supplies resident with gift cards in situations where additional help is needed.

What ends homelessness? Housing!
What is in a basic Move-In-Kit?
Cleaning supplies: Broom, mop, cleaning spray, sponges and soap are must-haves.
Kitchen supplies: Pots and pans; plates and silverware.
Microwave: Some people are coming from not having a kitchen for years and will be using a microwave a lot!
Bedding: For each family member: Air mattress, set of sheets and pillowcases, comforter, pillows, bath towels.

To support Building Futures individuals and families we need to raise $10,000 by 11:59pm 12/31/22. All donations will support those transitioning into stable housing. Won't you help us meet this goal and support the important work of Building Futures? Any funds raised beyond the goal amount will be used to purchase additional supplies and gift cards to assist families and individuals moving into their new homes!
This donation opportunity is part of the 10th annual Jammie Drive that my team and I organize over the holidays, where donors "adopt" a family at one of the shelters and buy jammies and cozy things for them. For more information, please visit: https://meridethmehlberg.com/holiday-jammie-drive/. We hope you will consider taking part in this important project, which allows the impact of our giving to be felt all year long!
Thank you,
Merideth Mehlberg
Merideth Mehlberg Group, LLC
---
PS: You may also donate by mailing a check with "Jammie Drive" in memo line and payable to: Building Futures. Mailing it to Building Futures, c/o Jammie Drive, 1840 Fairway Dr., San Leandro, CA 94577 or mail us a gift card in $25 increments from our high priority stores: Walmart, Target, Gas, Safeway, etc. Gift cards are amazing, allowing the family the flexibility to choose what they want most. You can also make an appointment to drop it off – simply email give@bfwc.org. Thank you for your generosity this holiday season!
---
Building Futures' mission is to build communities with underserved individuals and families, where they are safely and supportively housed, free from homelessness and domestic violence. Building Futures believes that everyone deserves a safe place to call home. That is why all of Building Futures' programs and services are aimed at helping their clients overcome their obstacles to permanent housing. Building Futures is proud to provide Alameda County individuals and families in need with Shelter, Domestic Violence Support and Advocacy, and Housing Services. The Midway Shelter was founded in 1989 by the Alameda Homeless Network and the City of Alameda, with the goal of providing 25 beds and a range of services for homeless women and children. Building Futures was chosen to operate the shelter in 2001. The name "Midway" represents the shift in the lives of women and children served, where the cycle of homelessness and domestic violence falls away and a new future can be built. Learn more at www.bfwc.org.